2.5L CIVETTA JACKET M
Color: blue lake

This product was manufactured under fair working conditions in conformity with Fair Wear Foundation.
More information
A LOT OF PROTECTION, MINIMAL PACK SIZE!
Ultra-lightweight, minimalistic, waterproof hardshell jacket for alpine tours
Our revamped MERINO HARDSHELL LIGHT continues to impress thanks to the combination of extreme lightness (68g/m²) and its HIGH-PERFORMANCE DERMIZAX® DT MEMBRANE from Toray. The 2.5 layer construction features the water column (min. 20,000mm) of a hardshell and the lightness and breathability (min. 20,000g/m2/24h) of a windbreaker. The patented MICRO BEAD STRUCTURE on the interior provides long-term scuff resistance for the membrane underneath and feels comfortable on your skin thanks to the quick moisture wicking. Tiny, integrated beads (micro beads) in the structure mean that moisture can be more quickly absorbed and released to the membrane. This makes it feel dry against the skin. The material does not feel sticky or wet.
New features such as the elastic waist and the chest pocket make the MERINO HARDSHELL even more functional: The jacket can now be completely stored in the inner pocket and, thanks to the loop on the inside, can be quickly fastened to a climbing harness or compressed to save space and stored in a backpack. The lightweight jacket is therefore the perfect companion on alpine tours where light weight, a small pack size and high protection are required.
In addition, this highly functional rain jacket is equipped with a self-regulating hood. A circumferential elastic band and a reinforced peak ensure an optimum fit in wind and rain, while discreet MERINO COOL inserts increase wear comfort around the chin and forehead area. The elastic cuffs and the elastic seam prevent any unwanted wind and moisture penetrating. There is still ample storage space in the breast pocket for a maps, trail bars or cell phone.
The ultra-light 2.5 layer jacket for men focuses on the essentials without compromising on functionality and comfort.
Tested and recommended by the VDBS
Since summer 2018 ORTOVOX has been expanding its long-term partnership with the Verband Deutscher Berg- und Skiführer (VDBS – German mountain and ski guide association) from emergency equipment into the clothing sector. ORTOVOX is not just a supplier for the VDBS; it is now also working together with the VDBS on project development. Products that we have developed and tested together bear the VDBS logo.
Product features

Product features
windproof
waterproof
1 Chest pocket
Elastic cuffs
Elastic waist
MERINO COOL inserts
Self-adjusting hood
Can be stored in your chest pocket
Adjustable hood
Breathable
Material properties

Material properties
Wind and waterproof (min. 10,000mm – 100% windproof)
Extra breathable: min. 20.000 g / m² / 24 h
Nonporous PU membrane - long lasting and easy to care for
Patented micro bead structure - ideal wear comfort on the skin
20 den hightec polyamid
Small packing size
Lightweigt: 68 g / m²
2 way stretch material
OUTER: 100 % polyamide MEMBRANE: 100 % polyurethane (Toray Dermizax® DT) DETAILS: 85 % virgin wool (MERINO) + 15 % polyamide


TORAY DERMIZAX DT
DERMIZAX DT is a particularly elastic PU membrane made by TORAY, and provides protection in all weathers. It is wind- and waterproof yet offers high breathability, which increases the more you sweat.
Highlights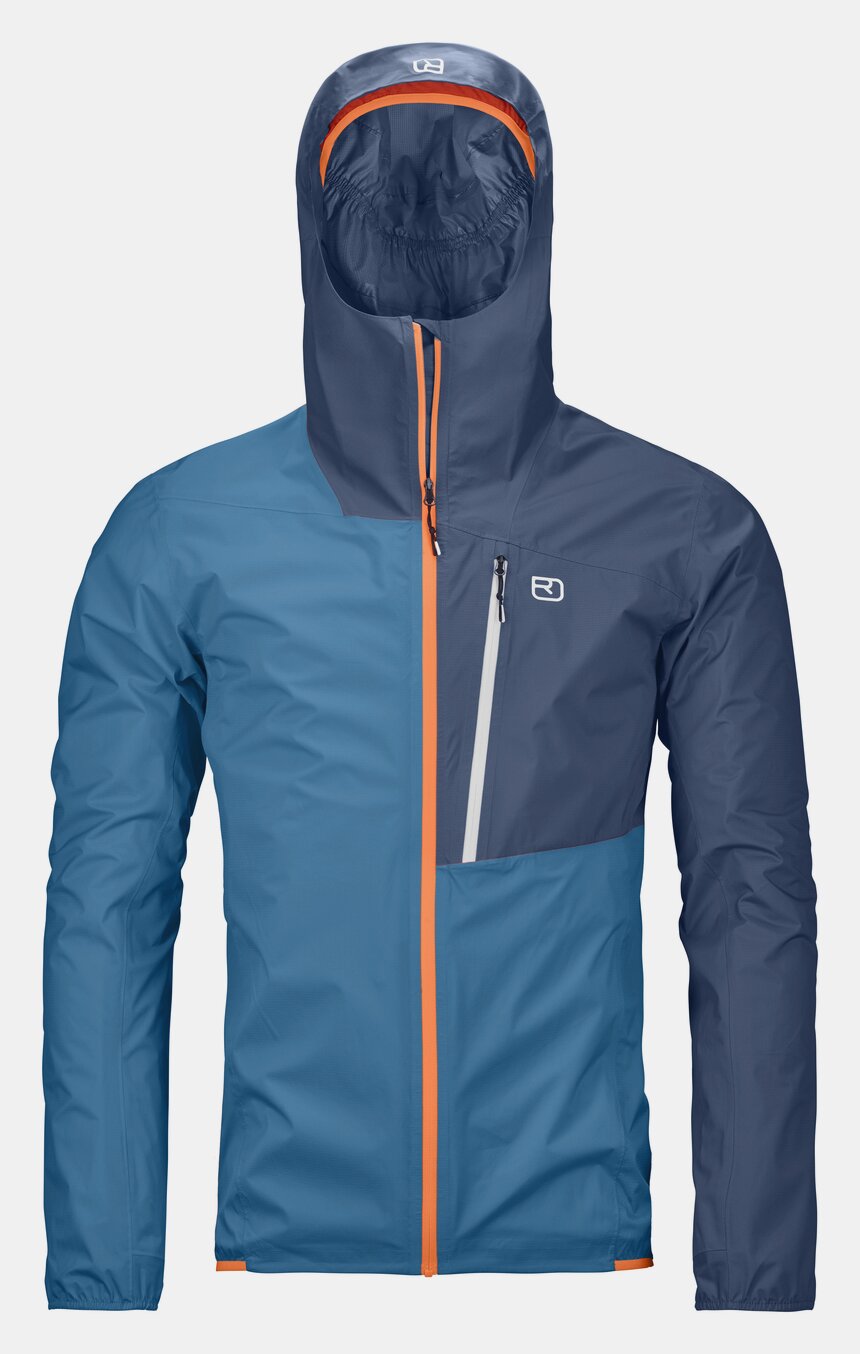 SELF-ADJUSTING HOOD
SELF-ADJUSTING HOOD
Anatomically optimized cut and circumferential elastic band ensure an ideal fit.
ELASTIC CUFFS
ELASTIC CUFFS
For optimal fit and protection in wet weather.
MERINO COOL inserts
MERINO COOL inserts
Discreet MERINO COOL inserts increase wear comfort around the chin and the forehead.
1 CHEST POCKET
1 CHEST POCKET
Provides space for your map.
CAN BE STORED IN BREAST POCKET
CAN BE STORED IN BREAST POCKET
Jacket can be stored completely in the breast pocket and can be fastened to a climbing harness with the additional inner loop.
MERINO WOOL
Our wool has its origins at the heart of a natural paradise: Tasmania. Where the air is at its purest, the food lush, and the climate moderate – that's where fair merino wool that fulfils the highest quality standards can be found.
ORTOVOX WOOL PROMISE
Our commitment to fair wool: Our own wool standard ensures that our merino wool is sourced in an animal- and environmentally-friendly manner. Our friendly relationship with our farmers enables us to have full transparency throughout the value-added chain.
You might also like these products