2L SWISSWOOL LEONE JACKET M
Color: night blue

This product was made in Europe. As such we support regional expertise, eliminating long transport routes.

This product was manufactured under fair working conditions in conformity with Fair Wear Foundation.
More information
Our waterproof SWISSWOOL jacket:
Wind and waterproof jacket with SWISSWOOL insulation for ski tours and high alpine tours
Highlights
optimum weight-to-insulation ratio thanks to SWISSWOOL
high-performance DERMIZAX®DT membrane
refined merino mesh inserts
adjustable seam and cuffs
The revamped lightweight 2L SWISSWOOL LEONE JACKET for men will keep you warm even during sweat-inducing climbs on freezing high mountain summits.
Lightweight design, high-performance membrane and warm SWISSWOOL: The revamped 2L SWISSWOOL LEONE JACKET for men keeps the NAKED SHEEP warm and dry on endurance ski and alpine tours.
Our first waterproof SWISSWOOL jacket impresses with its combination of lightweight design, high-performance DERMIZAX®DT membrane and high-quality Swiss wool. Naturally moisture and temperature regulating, the sustainably produced SWISSWOOL warms even when wet. Its ideal weight-to-insulation ratio (60 g/m²) makes it the perfect material for the NAKED SHEEP. The high-performance wind and waterproof membrane protects from the outside while still offering high breathability, and moves with your body thanks to the two-way stretch material.
The 2L SWISSWOOL LEONE JACKET for men fits perfectly thanks to the adjustable seam and cuffs and the self-adjusting hood with circumferential elastic band and atomically optimized cut. The reworked merino mesh inserts ensure a high level of comfort. Two backpack-worthy front pockets also provide plenty of space and quick access to important small essentials such as a map, cell phone or trail bar.
Thanks to the asymmetrical design and new color scheme, our ski touring sheep will look spectacular on any icy summit with the 2L SWISSWOOL LEONE JACKET for men!
MATERIAL
SWISSWOOL
The virgin wool we use for the loden is produced locally in Switzerland. SWISSWOOL has set up collection stations specifically for this purpose in many Swiss Alpine valleys, some of which are very remote, guaranteeing a fair price for raw wool. This has led to a revival in sheep farming and wool production, which are often quite unprofitable. After the raw wool has been weighed, it is washed and then processed. ORTOVOX then provides the unique design and functionality during the manufacture of the end product.
Product features

Product features
water repellent
waterproof
windproof
Regular Fit
Seam width adjustment
Adjustable cuffs
Self-adjusting hood
Merino mesh inserts in chin area
2 front pockets
Material properties

Material properties
2 way stretch material
Feuchtigkeitregulierend (wärmt selbst im nassen Zustand)
High breathability (min. 20,000 g/m2 / 24h)
Ideal weight-to-insulation ratio (60 g/ m²)
Optimized pack size
Sustainably produced fibers
Nonporous PU membrane - long lasting and easy to care for
Wind and waterproof (min. 10,000mm – 100% windproof)
OUTER: 100 % polyamide MEMBRANE: 100 % polyurethane (Toray Dermizax® DT) INSIDE: 100 % polyamide LINING: 88 % virgin wool (SWISSWOOL) + 12 % polylactide
DETAILS: 72 % polyester + 28 % virgin wool (OWP-MERINO)
Highlights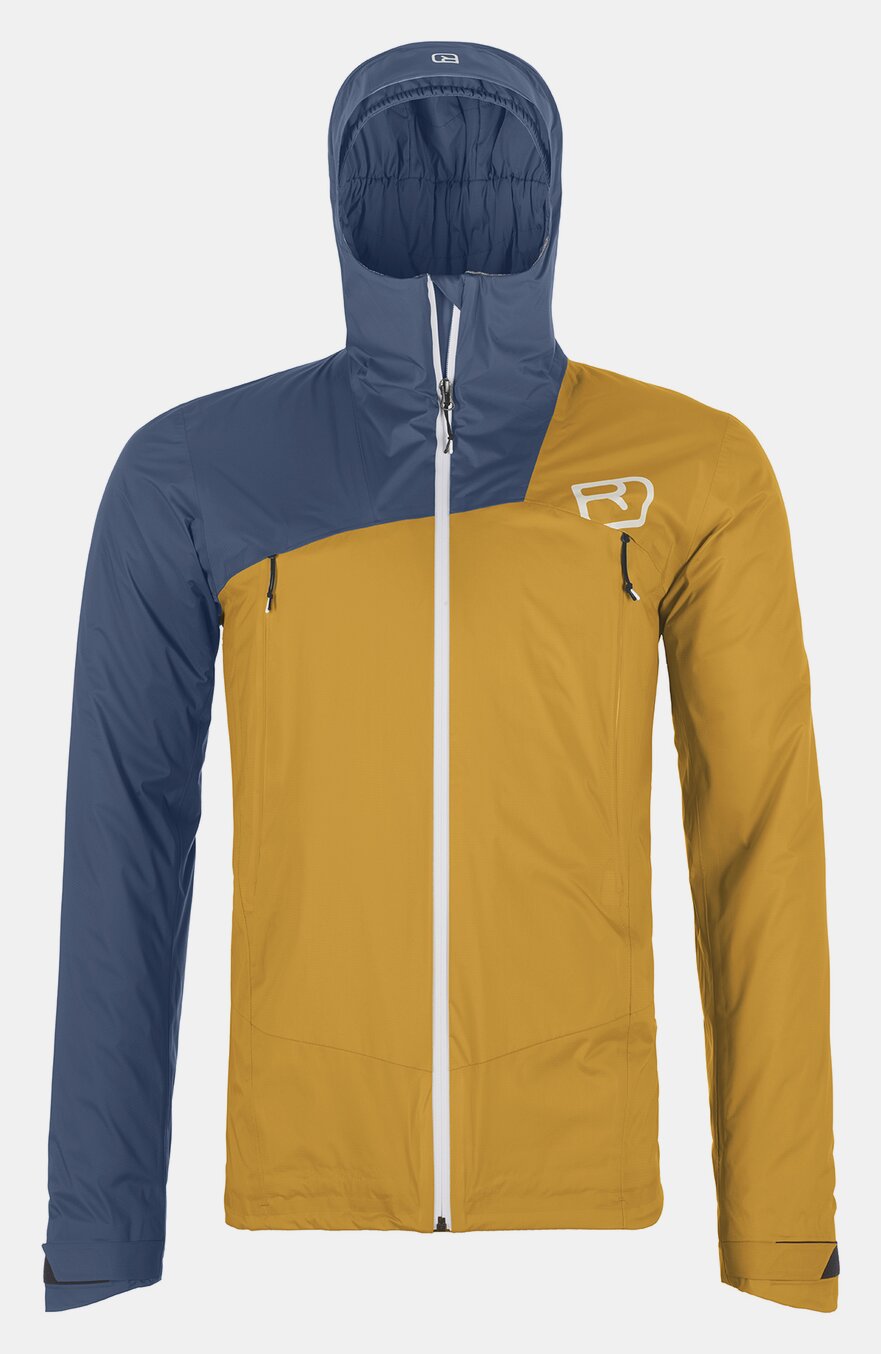 SELF-ADJUSTING HOOD
SELF-ADJUSTING HOOD
Anatomically optimized cut and circumferential elastic band ensure an ideal fit.
MERINO MESH INSERTS
MERINO MESH INSERTS
Provide comfort in chin area.
Soft hook and loop fastener cuffs
Soft hook and loop fastener cuffs
More comfort and durability.
MERINO WOOL
Our wool has its origins at the heart of a natural paradise: Tasmania. Where the air is at its purest, the food lush, and the climate moderate – that's where fair merino wool that fulfils the highest quality standards can be found.
ORTOVOX WOOL PROMISE
Our commitment to fair wool: Our own wool standard ensures that our merino wool is sourced in an animal- and environmentally-friendly manner. Our friendly relationship with our farmers enables us to have full transparency throughout the value-added chain.
You might also like these products