3L GUARDIAN SHELL JACKET M
Color: black raven

This product was made in Europe. As such we support regional expertise, eliminating long transport routes.

This product was manufactured under fair working conditions in conformity with Fair Wear Foundation.
More information
The first hardshell with pure merino wool on the skin
Robust, wind and waterproof freeriding jacket with soft merino lining
Massive, steep couloirs – surrounded by high, peaked rock faces: Inspired by alpine terrain, our MERINO GUARDIAN SHELL for men is now also available in a new rocky print! Thanks to the unique interplay of the HIGH-PERFORMANCE Toray DERMIZAX®EV MEMBRANE with a LINING OF MERINO WOOL, this 3L jacket remains the benchmark in hardshell comfort!
The inside of the jacket, which is made completely of merino wool, provides unique wear comfort, whilst the hardshell exterior, with its highly functional Toray Dermizax®EV membrane, and with a water column of at least 20,000mm, protects you from the wet and cold, and is also absolutely windproof. The 100% merino wool backing ensures excellent temperature management: The wool in the MERINO GUARDIAN SHELL allows moisture to pass through rapidly, which prevents the build-up of an inner layer of moisture and makes the 3L hardshell feel dry on the inside. This allows the MERINO GUARDIAN SHELL to absorb and then slowly release large quantities of moisture. This buffer action supports the DERZIMAX®EV MEMBRANE and enables ideal management of temperature and moisture.
Features like the 2-way adjustable storm hood (helmet compatible) with horizontal and vertical adjustment options and the adjustable seam provide the perfect fit and offer additional protection in stormy conditions. The two large front pockets, the inside pocket and the ski pass pocket provide more than enough room for the large and small items you need for ski touring and freeriding. And in case it gets a bit more challenging: The ergonomic underarm ventilation zippers can be easily opened for additional ventilation. At the same time, new processing technology in the MERINO GUARDIAN SHELL enables much flatter and consequently longer-lasting seams, so that the freeriding jacket is more durable for endless days riding powder.
Material
Merino wool
Since 1995, merino wool has been an integral component of ORTOVOX's mountainwear. Our merino wool comes from happy sheep reared on monitored, ethical sheep farms. The wool is naturally 100% ecological and therefore super sustainable. Thanks to the small-diameter fibers in its fine woolen threads, merino wool feels extremely soft and comfortable on the skin. In addition to comfort, merino wool also provides an ideal personal body climate by regulating both moisture and temperature. It is also easy to care for and, thanks to its antibacterial effect, odor neutralizing.
Dermizax EV
The Dermizax® EV functions in the same way as the Dermizax® NX membrane. It is completely waterproof (min. 20,000mm) and 100% windproof. It is breathable up to 20,000 g/m²/24h and therefore perfectly suited for freeriding.
Product features

Product features
windproof
waterproof
1 inner pocket
2-way adjustable storm hood
2 front pockets
2-way front zipper
2-way zippered underarm ventilation
Removable snow guard with elastic insert
Ski pass pocket
Adjustable cuffs
Seam width adjustment
MERINO ON SKIN
Material properties

Material properties
DWR Finish Improved beading effect for water and dirt.
4-Way Stretchmaterial
Nonporous PU membrane - long lasting and easy to care for
Extra breathable: min. 20.000 g / m² / 24 h
Windproof and waterproof: at least 20,000 water columns – 100% windproof
Merino inside
Made in Europe
THE OUTER FABRIC REMAINS CUDDLY SOFT EVEN IN VERY COLD CONDITIONS
OUTER: 100 % polyamide MEMBRANE: 100% polyurethane (Toray Dermizax® EV) INSIDE: 100 % virgin wool (MERINO)
Highlights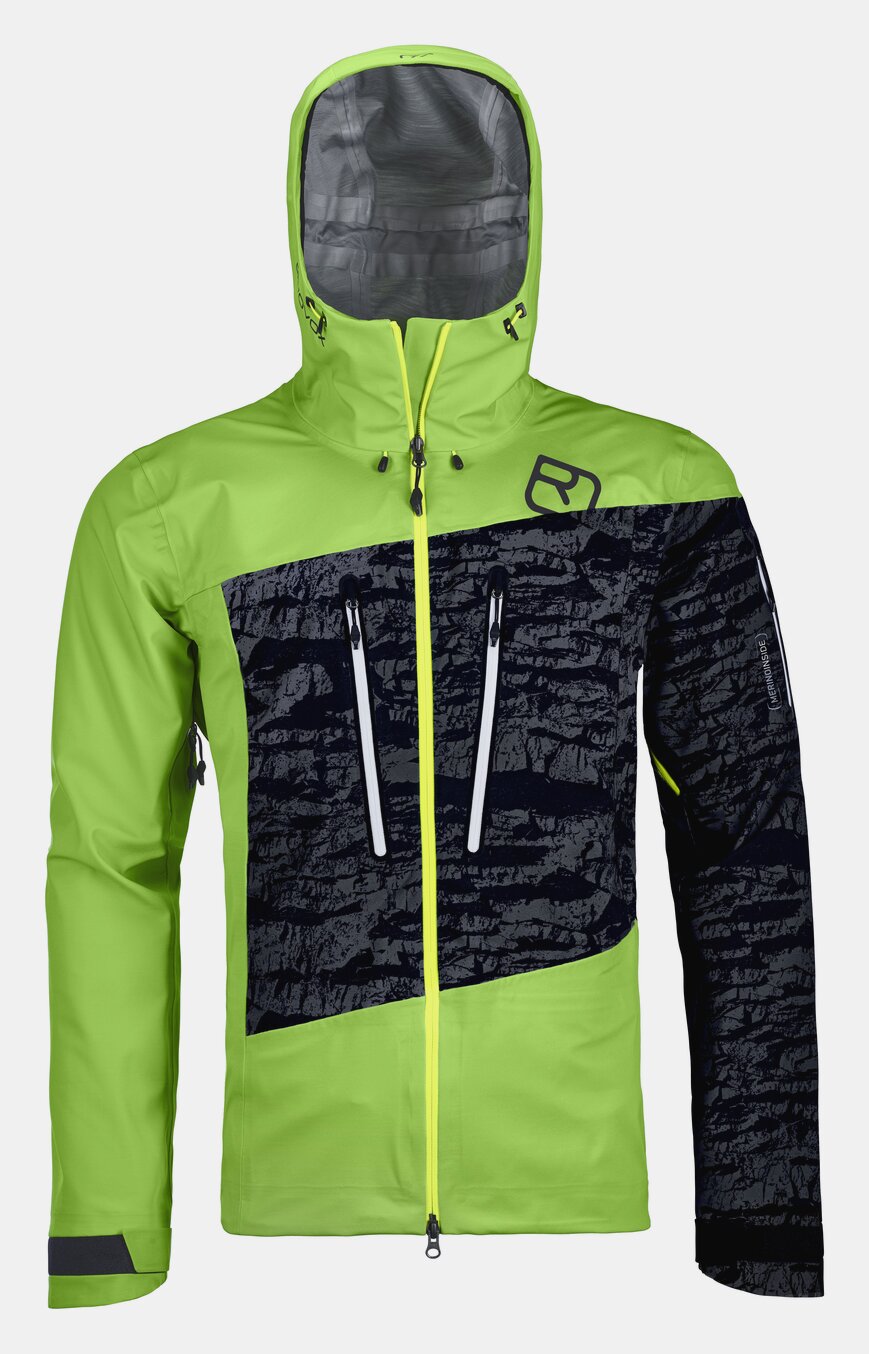 2-WAY ADJUSTABLE STORM HOOD (HELMET COMPATIBLE)
2-WAY ADJUSTABLE STORM HOOD (HELMET COMPATIBLE)
Horizontal and vertical adjustment options offer comfort in stormy conditions.
2 FRONT POCKETS
2 FRONT POCKETS
Big enough for the largest of objects.
2-WAY ZIPPERED UNDERARM VENTILATION
2-WAY ZIPPERED UNDERARM VENTILATION
Helps you cool down during strenuous exertion.
SOFTER HOOK AND LOOP FASTENERS
SOFTER HOOK AND LOOP FASTENERS
More Comfort und durability.
TWO-WAY ZIPPER
TWO-WAY ZIPPER
For a comfortable fit – even with a climbing harness.
SKI PASS POCKET
SKI PASS POCKET
Auto-lock slider prevents unwanted opening
MERINO ON SKIN
MERINO ON SKIN
The 90 g/m² Merino inner lining provides excellent temperature management and outstanding comfort. The Merino lining buffers moisture and wicks away sweat.
ADJUSTABLE SEAM
ADJUSTABLE SEAM
For each and every situation.
MERINO WOOL
Our wool has its origins at the heart of a natural paradise: Tasmania. Where the air is at its purest, the food lush, and the climate moderate – that's where fair merino wool that fulfils the highest quality standards can be found.
ORTOVOX WOOL PROMISE
Our commitment to fair wool: Our own wool standard ensures that our merino wool is sourced in an animal- and environmentally-friendly manner. Our friendly relationship with our farmers enables us to have full transparency throughout the value-added chain.
You might also like these products