BE QUICKER IN AN EMERGENCY: FIND OUT WHAT YOU SHOULD LOOK OUT FOR WHEN PURCHASING A HIGH-QUALITY AVALANCHE PROBE
SCHNELLER SEIN IM NOTFALL: INFORMIERE DICH JETZT, WORAUF DU BEIM KAUF EINER HOCHWERTIGEN LAWINENSONDE ACHTEN SOLLTEST.
In an avalanche accident, seconds count. Along with an avalanche transceiver and an avalanche shovel, the avalanche probe is therefore a central component of emergency equipment.
In the ORTOVOX AVALANCHE PROBE GUIDE, Chris Semmel, mountain guide and trainer with the Verband deutscher Berg- und Skiführer (VDBS – German mountain and ski guide association) explains which functions, safety standards and features are important in a high-quality avalanche probe.
AVALANCHE PROBE FUNCTIONS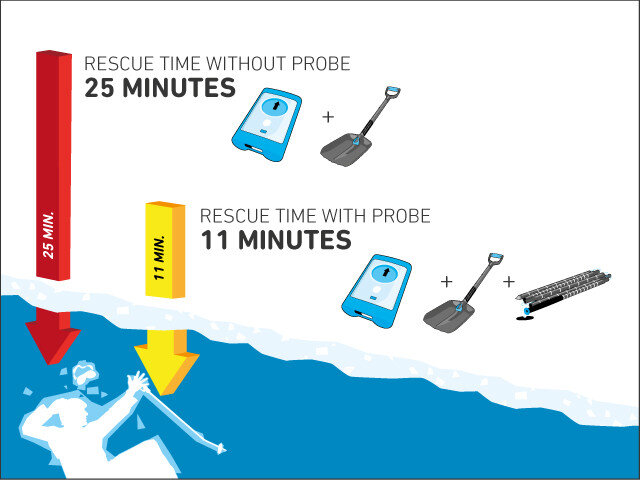 WHY IS THE AVALANCHE PROBE AN INDISPENSABLE ITEM OF AVALANCHE SAFETY EQUIPMENT?
The probe is an important component of avalanche safety equipment. Only with a probe can the exact location and the burial depth of the victim be determined, allowing quick action to be taken. Because in an avalanche accident it's all about working at speed to save lives.
Investigations have shown that without an avalanche probe for locating and pinpointing, it takes twice as long to dig out the victim: approx. 25 minutes. With a probe the average rescue time is eleven minutes. Without a probe, therefore, it is unlikely that the victim will be rescued within the 15 minutes that are essential for survival.
AVALANCHE BASICS
PROBING CORRECTLY IN THE EVENT OF AN AVALANCHE ACCIDENT
After completing the fine search with an avalanche transceiver and marking the location, you need to pinpoint the victim with the avalanche probe. Find out how to probe correctly here!
Mark the point with the smallest distance measurement (with crossed ski poles, shovel etc.). Starting from this point, probe the area systematically from the inside to the outside in the 25cm (~10 in) grid spacing shown.
The probe remains in place and is used for orientation purposes.
Tip: Always probe at a 90° angle to the surface of the snow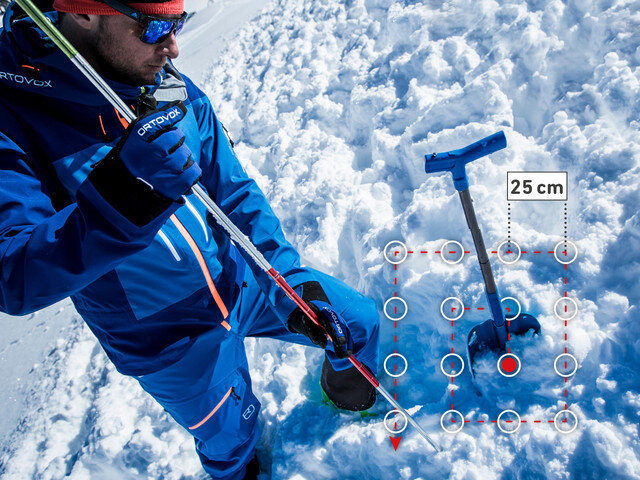 LEARN MORE
ONLINE ODER BEI EINEM UNSERER LAWINENKURSE
ONLINE OR ON OUR AVALANCHE COURSES
Interactive avalanche training at home: The online ORTOVOX SAFETY ACADEMY LAB.
Get ready for the powder season!
Only with the right knowledge can you reduce the risk of getting caught in an avalanche: In the SAFETY ACADEMY AVALANCHE COURSES in cooperation with international mountain schools, we offer all the information you need about the risks involved when on the mountain. Get educated surrounded by snow-capped mountains and reduce the risk!
COMPARISON: AVALANCHE PROBES
FEATURES

CARBON 240
SUPERLIGHT

CARBON 280+
PFA
ALU 240
LIGHT
ALU 240
PFA
ALU 320+
PFA
STEEL 320+
PFA
ALU 240
Length (in cm)
240/37,5
280+/43,5
240/37,5
240/43,5
320+/43,5
320+/44
240/43
Weight(in g)
185
355
235
310
430
680
200
Ø (in mm)
10
13
11
13
13
12
11
Material
Carbon
Carbon
7075 Alu T6
7075 Alu T6
7075 Alu T6
Steel
7075 Alu T6
Fastening system
Quick Lock
PFA
Quick Lock
PFA
PFA
PFA
Quick Lock
ALUMINUM AVALANCHE PROBES
DISCOVER THE ORTOVOX AVALANCHE SHOVEL GUIDE AND LEARN ALL THERE IS TO KNOW ABOUT SHOVELING!