PALA LIGHT JACKET W
Colour: winetasting

The wool used in this product has been inspected for compliance with the ORTOVOX WOOL PROMISE.
More information

This product contains no environmentally harmful per- or polyfluorinated chemicals (PFCs).
More information

This product is climate neutral. It was produced in the most environmentally friendly way possible. Any unavoidable CO2 emissions have been offset.
More information
PROTECTION ON ALPINE ROUTES
Extremely durable, athletic stretch jacket for alpine climbing
Highlights
High scuff-resistance
Athletic cut for great freedom of movement
Water-resistant on the outside, comfortable thanks to merino wool on the inside
The massive, bizarre towers of the Pala group protrude from the stony alpine plateau. Climbing here in the southernmost mountain range of the Dolomites takes strong nerves – and strong material. Our MERINO SHIELD TEC line was designed especially for long, alpine routes like these!
The extremely scuff-resistant outer material of the PALA LIGHT JACKET for women achieves more than 50,000 abrasion cycles in the Martindale test, which is used to measure scuff resistance. Reinforcements in particularly high-stress areas such as the hips, shoulders and underarms offer maximum protection against craggy rocks. The 4-WAY stretch material provides full freedom of movement, enhanced by an athletic cut and anatomically shaped elbow areas. Thanks to its no-membrane construction, the PALA LIGHT JACKET for women is particularly breathable, while fine MERINO WOOL inside and merino MESH inserts in the collar and waistband offer additional comfort.
The PALA LIGHT JACKET for women has an elastic waistband and cuffs and, thanks to its high-reach performance fit, will move with your every athletic maneuver and is perfectly tailored for climbing. The breast pocket has space for a topo, cell phone, trail bar or other small items that you might need to grab quickly on a long day in the mountains.
For the sake of the environment, the entire MERINO SHIELD TEC line is also completely PFC-free and climate-neutral through carbon offsetting. With its fresh look, the PALA LIGHT JACKET for women is just right for big climbing routes on high rock faces.
Product features

Product features
1 Chest pocket
1 integrated cell phone pocket made of merino mesh
Protective shell
Reinforced shoulder, underarm and hip area
Elastic cuffs
Seam width adjustment
Athletic fit
water repellent
Material properties

Material properties
High scuff resistance (50,000 abrasion cycles in the Martindale test)
4-Way Stretchmaterial
Breathable
Lightweight
Quick drying
WATER RESISTANT
Merino inside
PFC free
MAIN MATERIAL: 74% polyamide + 15% wool (OWP MERINO) + 11% elastane INSERTS: 91% polyamide + 9% elastane

Merino Inside
Our sustainable MERINO WOOL comes from monitored, ethical sheep farms. It is comfortably soft, easy to care for, and provides an optimum body climate thanks to its moisture- and temperature-regulating properties.
Highlights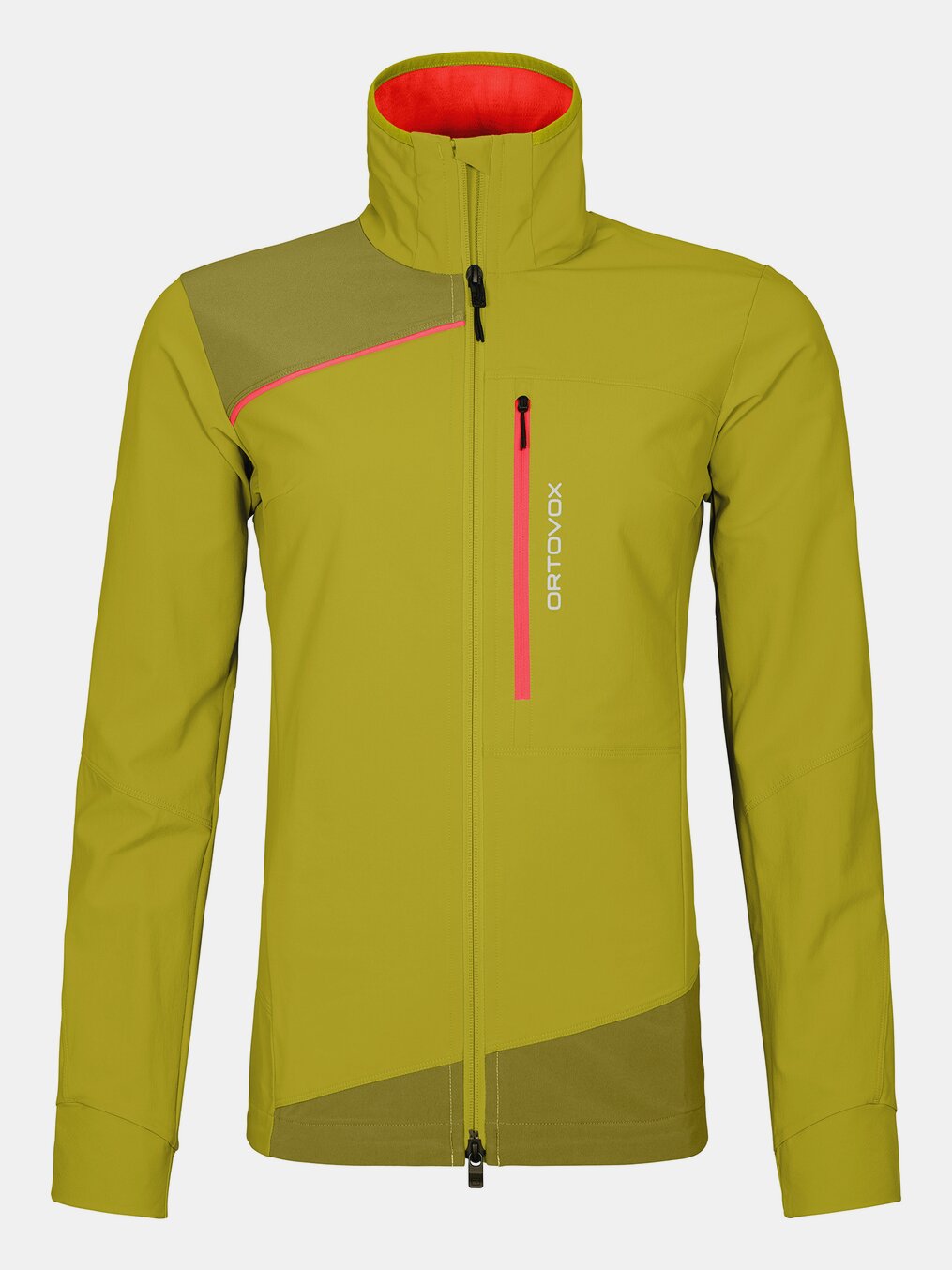 Reinforced shoulder, underarm and hip area
Reinforced shoulder, underarm and hip area
Ensures greater scuff resistance.
High breathability
High breathability
The no-membrane design offers ideal moisture management.
Protective shell
Protective shell
Extremely scuff-resistant and water and wind-resistant
1 BREAST POCKET
1 BREAST POCKET
Is backpack-compatible and provides space for your map.
SLEEVE FIT
SLEEVE FIT
Specially adapted to climbing – with a high-reach fit for unlimited freedom of movement.
ATHLETIC FIT
ATHLETIC FIT
Ergonomic cut for maximum freedom of movement.
ADJUSTABLE WAISTBAND
ADJUSTABLE WAISTBAND
Adjustable for a perfect fit.
BENEFITS MERINO WOOL
Our wool has its origins at the heart of a natural paradise: Tasmania. Where the air is at its purest, the food lush, and the climate moderate – that's where fair merino wool that fulfils the highest quality standards can be found.
ORTOVOX WOOL PROMISE
Our commitment to fair wool: Our own wool standard ensures that our merino wool is sourced in an animal- and environmentally-friendly manner. Our friendly relationship with our farmers enables us to have full transparency throughout the value-added chain.
You might also like these products