VAJOLET PANTS M
Colour: deep ocean

This product contains no environmentally harmful per- or polyfluorinated chemicals (PFCs).
More information

This product is climate neutral. It was produced in the most environmentally friendly way possible. Any unavoidable CO2 emissions have been offset.
More information

This product was manufactured under fair working conditions in conformity with Fair Wear Foundation.
More information
Robust, lightweight climbing pants
Lightweight, breathable summer climbing pants with adjustable ankle cuffs
Highlights
Full freedom of movement
Water-resistant and light
Very Robust
What is light can be robust: The new VAJOLET PANTS for men combines summery lightness with abrasion resistance and feels comfortable on steep rock faces.
The thin, elastic main fabric made of MERINO SHIELD ULTRA LIGHT material guarantees the necessary freedom of movement - for any climb, no matter how demanding. At the same time, inserts made of abrasion-resistant material protect against rugged rock. A wool elastic made of fine Tasmanian merino wool is used in the adjustable waistband area, which ensures optimum moisture regulation. In keeping with the spirit of sustainability, the lightweight climbing pants are also PFC-free.
Other features such as the Topo pocket on the thigh or the pre-adjusted hem make the VAJOLET PANTS for men the perfect alpine companion - on the bizarre rock formations of the Vajolet towers of the Dolomites as well as in the steep walls of the Wilder Kaiser.
Product features

Product features
Water-resistant
Elastic, adjustable merino waistband (hook and loop fastener)
Closed waistband
2 pockets (1 with zipper)
1 map pocket on the thigh
Anatomically shaped knee area
Adjustable ankle cuffs
Regular Fit
water repellent
Extremely lightweight
Material properties

Material properties
Durable: Thanks to a material blend with Cordura® (>30,000 abrasion cycles in the Martindale test)
High scuff resistance
4-Way Stretchmaterial
Lightweight
Quick drying
Water-resistant
MAIN MATERIAL: 85% polyamide + 15% elastane
INSERTS: 91% polyamide + 9% elastane WAISTBAND: 67% virgin wool (MERINO) + 20% polyester + 13% elastane
Highlights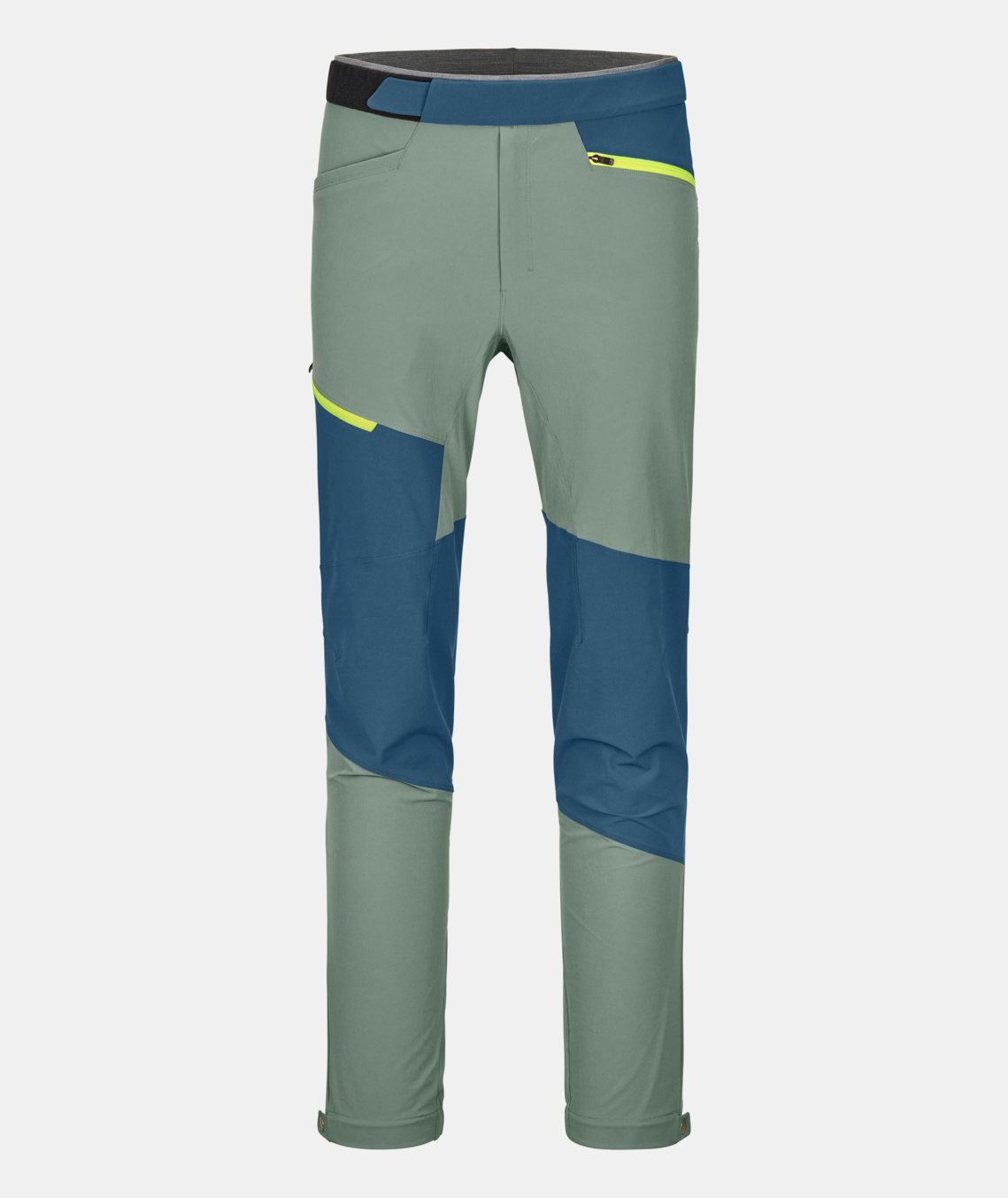 Continuous, flat waistband
Continuous, flat waistband
For an optimum fit with climbing harness.
Separate fly
Separate fly
For those quick little breaks.
Pockets on the front
Pockets on the front
One with a zipper for more security.
Map pocket on the thight
Map pocket on the thight
The right way is always close at hand.
Anatomically shaped knees
Anatomically shaped knees
Protective inserts
Protective inserts
Extremely scuff, water and windresistant.
Pre-adjusted elastic ankle cuffs with additional adjustment option
Pre-adjusted elastic ankle cuffs with additional adjustment option
With extra-flat, lightweight snap fasteners.
BENEFITS MERINO WOOL
Our wool has its origins at the heart of a natural paradise: Tasmania. Where the air is at its purest, the food lush, and the climate moderate – that's where fair merino wool that fulfils the highest quality standards can be found.
ORTOVOX WOOL PROMISE
Our commitment to fair wool: Our own wool standard ensures that our merino wool is sourced in an animal- and environmentally-friendly manner. Our friendly relationship with our farmers enables us to have full transparency throughout the value-added chain.
You might also like these products