WINDBREAKER VEST W
Colour: petrol blue

This product contains no environmentally harmful per- or polyfluorinated chemicals (PFCs).
More information

This product is climate neutral. It was produced in the most environmentally friendly way possible. Any unavoidable CO2 emissions have been offset.
More information
Lightweight against the wind
Feather-light, windproof vest with a minimal pack size for alpine tours
Highlights
Water-resistant and windproof
Lightweight with a minimal pack size
A unique material mix with merino wool
Windproof, light as a feather, packable and with all the advantages of the finest merino wool: with the WINDBREAKER VEST for women, even the strongest summit wind can't knock you down, whether you're mountaineering or climbing.
Also in the new WINDBREAKER generation with a more ergonomic fit, the MERINO PROTECT material is processed - in the front area and on the back. With its fine merino fibers, this breathable, moisture-regulating and windproof material noticeably optimizes the body climate. The side panels of the vest are made of super-light, windproof TEC-STRETCH material that moves flawlessly with every movement. The PFC-free water-repellent DWR coating protects against light drizzle. In the practical chest pocket with extra loop, the wind vest can be completely stowed and individually fixed to the backpack, belt or belt loop.
The MERINO WINDBREAKER VEST for women is the perfect companion for the true minimalist who focuses on reduced weight with maximum function. It is a reliable, protective all-rounder and light enough to be with you wherever you go.
Product features

Product features
Protective collar
1 Chest pocket
Can be stored in your chest pocket
Elastic waist
Regular Fit
MINIMALIST INTERNAL DESIGN
Breathable
Extremely lightweight
Insulating
windproof
Material properties

Material properties
MERINO PROTECT: merino wool on your skin, windproof, highly breathable, moisture-regulating
TEC-STRETCH OUTER MATERIAL
WATER RESISTANT
EXTREMELY LIGHTWEIGHT
MINIMAL PACK SIZE
MAIN MATERIAL (1): 55% virgin wool (MERINO) + 45% polyamide
MAIN MATERIAL 2: 100% polyamide
Highlights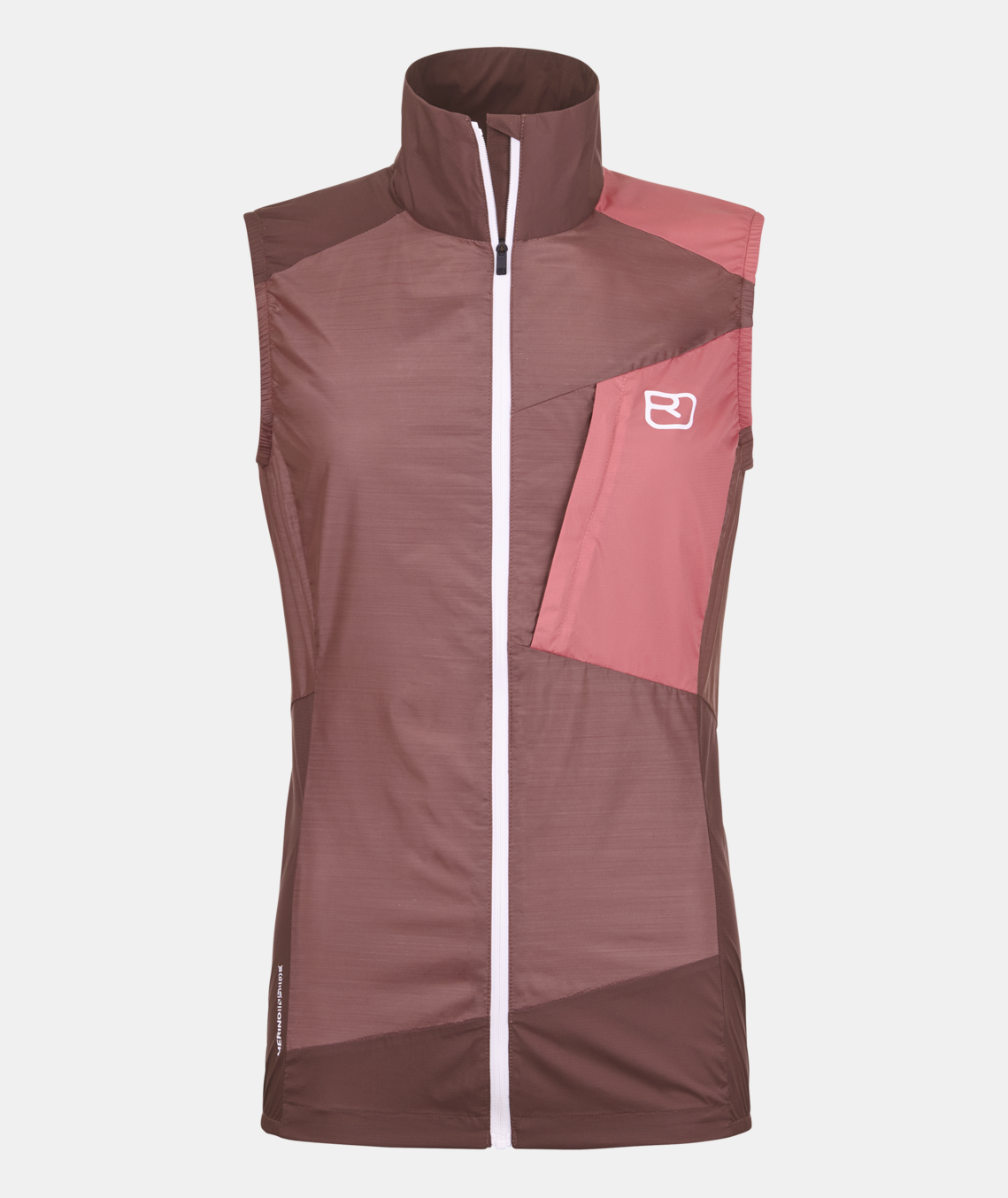 FINE MERINO WOOL
FINE MERINO WOOL
Ensures improved moisture wicking.
TEC-STRETCH
TEC-STRETCH
Elastic, windproof und breathable.
MINIMALIST INTERNAL DESIGN
MINIMALIST INTERNAL DESIGN
CAN BE STORED IN YOUR CHEST POCKET
CAN BE STORED IN YOUR CHEST POCKET
The jacket can be packed away in the breast pocket and fastened to a backpack, belt or belt loop thanks to the integrated loop.
BREAST POCKET
BREAST POCKET
Space for your cell phone, map or trail bar.
ELASTIC HEM
ELASTIC HEM
Automatically adjusts to fit.
ELSATIC CUFFS
ELSATIC CUFFS
For optimal fit and protection in wet weather.
BENEFITS MERINO WOOL
Our wool has its origins at the heart of a natural paradise: Tasmania. Where the air is at its purest, the food lush, and the climate moderate – that's where fair merino wool that fulfils the highest quality standards can be found.
ORTOVOX WOOL PROMISE
Our commitment to fair wool: Our own wool standard ensures that our merino wool is sourced in an animal- and environmentally-friendly manner. Our friendly relationship with our farmers enables us to have full transparency throughout the value-added chain.
You might also like these products